F is for …
John Fairbairn (patent reaper and mower), Maxton, St Boswells, Roxburghshire
Thomas Fairgrieve & Sons, millwrights and engineers, Cockholm Works, Stow, Midlothian
James G. Falconer (ploughs and harrows), Pluscarden, Elgin
Farm Mechanisation Co. Ltd, Ladybank, Fife
Andrew R. Findlay, 17 Robertson Street, Glasgow
Finlayson & Hill, Eastfield Iron Works, Clyde View Place, Rutherglen, Lanarkshire
Flear & Thomson (threshing mills, turnip thinners), Station Road, Dunfermline, Fife
F. M. Fleming & Son, agricultural engineers, Rattray Engineering Works, Blairgowrie, Perthshire
P. & R. Fleming & Co., 29 Argyle Street, Glasgow and 16 Graham Square, Glasgow
George Forbes (reapers & thrashers), Janetstown, Caithness
Walter R. T. Forbes (turnip sowers & rollers), Sinclair Street, Thurso, Caithness
Forfar Foundry Ltd, Service Road, Forfar, Angus
Archibald Forrest, agricultural implement maker, Old Foundry, Uddingston
Fraser Brothers, agricultural machinery manufacturers, Rothienorman, Aberdeenshire
James S. Fraser & Sons, agricultural implement makers, Blairgowrie, Perthshire
Fraser & McColl, 20 and 22 Eastgate and Hamilton Street, Inverness
William Fraser, Abbey Road, Auchterarder, Perthshire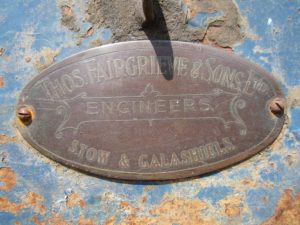 The selection of names in the alphabet that start with the letter F are very varied. Most are from eastern Scotland, the main tillage areas where agricultural implements and machines were used. There are clusters of makers in Perthshire and Fife, two important centres for their manufacture. Glasgow and the environs were also a central area for their distribution for the west of Scotland.
In Fife the name of Flear & Thomson, Station Road, Dunfermline, Fife, may be known to some readers as a car dealer. However, it started its life as an agricultural implement and machine makers. It was in business by 1890 manufacturing turnip thinners and ploughs. By 1905 it was also making threshing machines. It became a well-known agent. It became a motor engineer and a garage around the mid 1920s.
One of the well-known names of agricultural implement makers and agents in Fife was Farm Mechanisation Co. Ltd, of Ladybank, established by Gavin Reekie in 1947.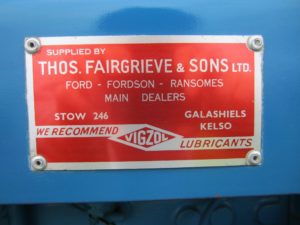 From its earliest days its name was closely associated with Massey Ferguson. Indeed, the company was set up to market the Ferguson TE20 tractor with its revolutionary three-point linkage. In 1958 its strapline was "The Massey Harris and Ferguson people". You will see the Farm Mechanisation badge on many Fergies and MF tractors round the rally fields!
By 1953 the company was associated with Reekie Engineering Co. Ltd, Arbroath, and Stirling Tractors, St Ninians, Stirling. In 1965 an advert in The Scottish Farmer recorded it as a member of the G. Reekie group of companies.
It extended its activities in Fife. By 1955 it had a premises at Halbeath Road, Dunfermline, and in 1959 a further one at South Road, Cupar.
It was not until 1951 that the company started to exhibit at the Highland Show, doing so until 1964. It entered a number of its implements for the prestigious new implement award. In 1951 it entered its "Farmec" 3 row fertiliser unit (invented by G. R. Reekie); in 1953 the Farmec universal elevator as well as its improved 3 row fertiliser unit for mounted riders; in 1962 a pressure kiln dryer and the Farmec power drive 3 row fertiliser unit. The Royal Highland and Agricultural Society of Scotland awarded a silver medal in 1953 for its fertiliser unit for mounted riders.
In Perthshire, William Fraser was a smith whose business ran from at least 1904 to 1940. He exhibited at the Highland Show of 1904 when it was held in Perth. James S. Fraser & Sons, agricultural implement makers, Blairgowrie, Perthshire had a business that extended from at least 1883 to 1940. He undertook a wide range of trades though throughout this period he continued to be an agricultural implement maker, engineer, heating apparatus maker and fitter, mechanical engineer and smith.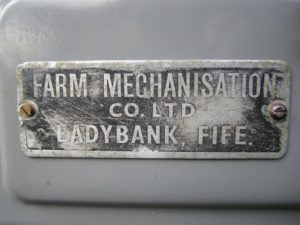 A well-known Perthshire name is F. M. Fleming & Son, agricultural engineers, Rattray Engineering Works, Blairgowrie, which was well-known from the 1920s until the 1950s, for its haymaking implements and machines. This implement maker and engineer won a silver medal for its hydraulic model rick lifter in 1953. In 1955 it invented and made the Anderson sugar beet and root cleaner'. It was also an agent. In 1955 it was an agent for David Brown tractors.
Update –
If you are interested in the Scottish agricultural implement and machine makers in the period you may be interested in the newly published e-book Scottish agricultural implement and machine makers, 1843-1914: a directory, which has just been published by the Scottish Record Society. It is on special offer until 31 December 2020. Information on how to order this ebook is on the flier at the end of the images on this post.