C is for …
Gavin Callander, Palmerston Iron Works, Dumfries
Duncan Cameron (harrows), Bank Street, Aberfeldy, Perthshire
Campbell & Anderson (harrows), Mauchline, Ayrshire
David Cassells, smith and millwright, Newton Mearns, Renfrewshire
James P. Cathcart, agricultural implement merchant, agricultural machinery, and every description of manufactured iron; estimates given for erecting hay sheds and wire fencing, 135 Buchanan Street, Glasgow; depot Graham Square, Glasgow
Thomas Chalmers (ploughs, mowers &c), Howes, Annan, Dumfriesshire
John Christie, Kinellar, Aberdeen
Clark & Sutherland, Smiddy Brae Works, Kingswells, Aberdeenshire
The Clockmill Engineering Co., Cammo Foundry, Duns
James W. Cobban, millwright and agricultural implement maker, Union Works, Inverurie, Aberdeenshire
James Coltart (ploughs, harrows and reaping machines), David Street, Maxwelltown, Dumfries
A M. Core & Co., Springfield Road, Glasgow
James Cossar, Elsrickle, Walston, Biggar, Lanarkshire
County Garage (Lanark) Ltd, Hyndford Road, Lanark
F. D. Cowieson & Co., 3 Charles Street, St Rollox, Glasgow
James Craig (ploughs, harrows), Auchnasaul, Kilninver, Oban
Craigrossie Engineering Co., engineers and millwrights, Auchterarder, Perthshire
James Crichton, engineering works, Strichen
Nathan Cromie, Clayton Works, Sheuchan Street, Stranraer
Peter Crowe, smith and implement maker, Trades Lane, Coupar Angus, Perthshire
Cruikshank & Company Limited, general ironfounders, Denny iron Works, Denny, Stirlingshire
James A. Cuthbertson, agricultural engineer, Biggar, Lanarkshire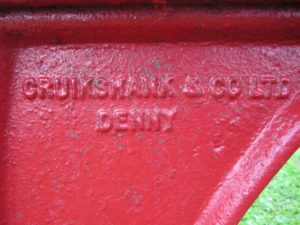 We have focused on some of these makers in previous posts. They include some well-known makers. James W. Cobban, millwright and agricultural implement maker, Union Works, Inverurie, Aberdeenshire was an agricultural engineer, millwright, implement, machinery and equipment manufacturer from at least the late 1940s until at least 1960. It exhibited its 'Ardconnon' power drive trailer, invented by A. R. W. Gordon, Ardconnon, Old Meldrum, and made by it at the Royal Highland Show of 1954 at Dumfries.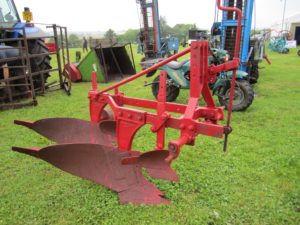 Craigrossie Engineering Co., (Craigrossie Engineering Co. Ltd from 1923), Auchterarder, Perthshire, was a short-lived business, exhibiting at the Royal Highland Show in 1921; it voluntarily wound up its business in 1933. It was an innovative business, exhibiting a number of new implements at the Royal Highland Show from 1921 to 1926. These included a sheep drawn cleaning machine, invented by James Parker, smith, East Mill, Auchterarder; a wind-driven dynamo for supplying electric light and power, invented by John H. Garty, managing director of Glasgow Electrical Engineering Co. Ltd; a self-feeder, invented and made by it; and improvements on the threshing machine.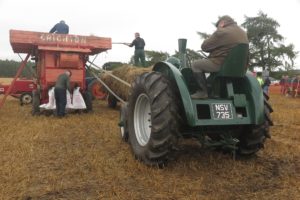 James Crichton, had his business at the engineering works in Strichen, Aberdeenshire in 1920. In 1926 the business became incorporated as Crichton's (Strichen) Ltd, and held premises at Strichen and Perth. It changed its name in following years as James Crichton & Co., engineer, Turriff, Aberdeenshire in 1934 and as James Crichton, millwright, Turriff, Aberdeenshire in 1946. Crichton was an engineer and millwright; by 1969 it was a millwright, bodybuilder and engineer. It was renowned for its threshing machines. It entered for the new implement award at the Royal Highland Show in 1924 an improved 4' 6" type double crank standardized threshing machine with ball-bearings throughout which it invented and made. In 1935 it also entered a one belt thresher C. M. type; drum width 27 in. (patents pending), which it invented and made.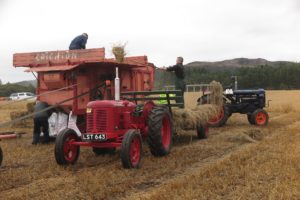 The Clockmill Engineering Co., Cammo Foundry, Duns, first advertised in the Scottish Farmer on 1 March 1919. It infrequently advertised in following years until the company was wound up in 1974. It was also an infrequent attendee at the Royal Highland Show when it largely visited the Kelso show district. It did so in 1926, 1936 and 1952. It was an agricultural implement manufacturer and an ironfounder. Its manufactures included petrol turnip cutters, reapers and grubbers in 1930.