P is for …
D. T. Paterson, Sinclair's Hill, Duns, Berwickshire
George Paul & Co., Duncarron Iron Works, Denny, Stirlingshire
A & J Paxton, poultry appliance manufactures, Airdrie
Robert Paxton, agricultural implement maker and agent, Waverley Terrace, Bonnyrigg
Paxton & Clark Ltd, agricultural implement makers, Waverley Terrace, Bonnyrigg, Midlothian
Wm Philip & Son, Mount Pleasant Works, Catherine Street, Kirkcaldy, Fife
W. Philip & Son (Kirkcaldy) Ltd, Catherine Street, Kirkcaldy, Fife
A & W. Pollock Ltd, agricultural implement works, Mauchline, Ayrshire
Henry Pooley & Son Ltd, 69 McAlpine Street, Glasgow, and Leith Walk, Edinburgh
A & M. Pottie (ploughs, harrows, grubbers &c), St James' Place, Paisley, Renfrewshire
David Proctor (mowers, reapers, thrashers, churns &c), Hill Street, Kilmarnock, Ayrshire
We have some big players under the letter P.
Pollock of Mauchline, which survives today as Pollock Farm Equipment Limited. Its roots go back to 1867 when Andrew Pollock started a shop in the Cowgate, Machine. By 1877 his address was the "Implement and Machine Works, Mauchline". He was an agricultural implement maker, a smith and a smith and farrier.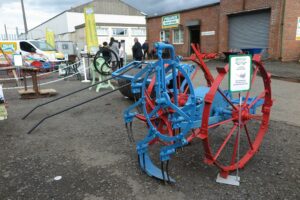 Andrew quickly recognised the importance of providing farmers with a broad range of implements and machines. In addition to making his own ones, he also acted as an agent for other makers. By 1886 he acted for W. N. Nicholson & Son, Newark on Trent, famous for their horse rakes. In later years he also sold manufactures from other of the makers such as Thomas Corbett, Perseverance Iron Works, Shrewsbury, and Harrison, McGregor & Co. Ltd, Leigh, Lancashire. All are major English makers.
Andrew became well-renowned for his own manufactures, winning a number of awards for them. But it was those implements for cultivation of the soil, hay and straw trussers, potato diggers and cheese presses that he was especially known, even well through the twentieth century. His manufactures were, according to the North British Agriculturist in 1893, "characteristically those designed for farming as carried on in Ayrshire and the adjoining counties". He was also an inventor, applying for two patents in relation to his machine for topping and tailing turnips in 1878.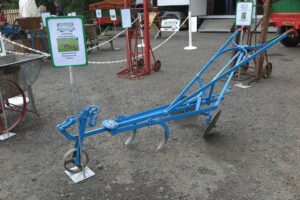 He was well-known throughout the implement-making community of Scotland, also exhibiting his manufactures at major agricultural shows including the Highland Show where he was a regular exhibitor from 1875 onwards.
The development and reputation of his business was summed up by the North British Agriculturist in 1893. It noted how "Mr Andrew Pollock has worked his way up from the position of a local blacksmith to that of possessing one of "tidiest little" implement businesses in the west of Scotland".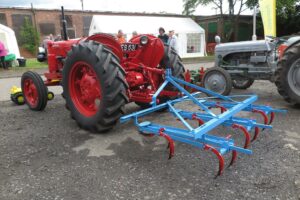 By the time Andrew died in 1904 he had a well-regarded and successful business. His widow, Mrs Martha Jamieson or Pollock, carried on the business until it was transferred to his sons Andrew and William, to form A. & W. Pollock on 31December 1912.
In the 1920s Pollock was renowned for rick lifters, potato diggers, hay and straw baling machines. In later years it was agent for a number of major English makers including Albion, Bamfords, Alfa-Laval, New Holland and Clayson.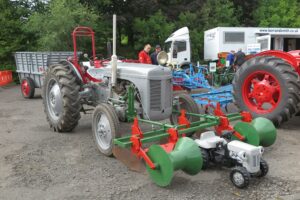 The company was an innovative one. In 1935 it entered its ricklifter and low loading float combination for the New Implement award at the Highland Show. This was followed by a powerdrive hay tedder, invented by John R. Pollock, in 1959. In 2019 Pollock Farm Equipment was awarded a silver medal by the Royal Highland and Agricultural Society of Scotland for its Pollock Rope Scraper System.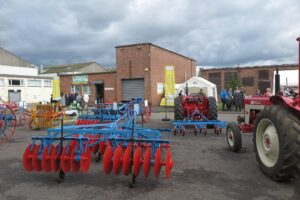 Henry Pooley & Son Ltd, 69 McAlpine Street, Glasgow, and Leith Walk, Edinburgh, was The company was founded around 1790 to make scale beams, and continued in business into the second half of the twentieth century. It became the biggest manufacturer of weighing machines in its time. Their range and diversity was extensive. In 1877 the company described itself as "patentees and manufacturers of every description of weighing apparatus for railways, ironworks, collieries, etc. A few years later in 1870 this description was "patentees and manufacturers of every description of weighing apparatus for agricultural purposes &c". By 1984 we clearly see the wide range of sectors which the company made weighing machines for: "every description of weighing apparatus for railways, iron works, engineers, collieries, mills, warehouses, farms &c". In later years by 1913 it was a maker of "every description of weighing machines and scales".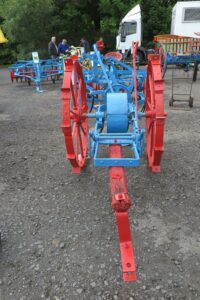 The range of trades carried out by the company was also significant. Between 1880 and 1914 the company variously undertook the following trades which included: agricultural implement maker and agent; agricultural implement manufacturer; beam and scale maker; colliery plant manufacturer; contractor; contractors' plant maker; engineer; iron founder; machine maker and millwright; machinist; mechanical engineer; mill furnisher; millwright; railway plant contractor; railway plant merchant; scale beam maker; scale, beam and steelyard maker; scale and weight manufacturer; shoplifter; steelyard manufacturer; weigh bridge manufacturer; weighing machine maker.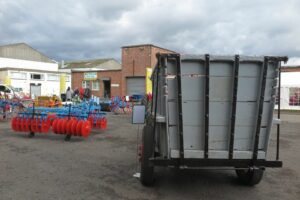 The company was not only a key player in England, but also in Scotland and internationally, also acting as contractors to H.M. Government, British and foreign railways by 1905. In Scotland it had an extensive network of branches which allowed it to have a wide, and local presence, throughout the country. By 1875 the first of these was in Glasgow, at 113 West Nile Street, an address it remained at until 1879, when it moved to 41 Hope Street. By 1884 it had established a head office and works in Scotland, the Albion Works, at 69 and 71 McAlpine Street, Glasgow. The company also had other addresses in Glasgow: they included Paisley Road (1895), 25 South Kinning Place (1903), and 21 Stockwell Street (1909).
Other towns quickly had a branch establishment of Pooley's. By 1877 there were ones at Dunfermline, Fife and Aberdeen. In 1880 there were mechanics stationed in Edinburgh, Dunfermline and Dundee. There was a branch at Inverness in 1901 and at Perth in 1904.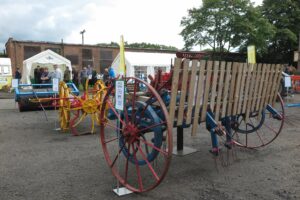 The company maintained a strong presence in the agricultural community. It was a regular attender at the Highland Show from 1876 onwards. It was also a regular advertiser in the Scottish agricultural press from 1876. It also actively participated in the trials of the Royal Highland and Agricultural Society of Scotland. For example, in 1887 it was awarded £10 for its cart and cattle weighing machines, and in 1893 also won £10 in the Society's weigh bridge competition. It also won awards for its exhibits at the Highland Show. In 1876 it won a silver medal for its patent three ton self-contained agricultural cart weighing machine, as well as a silver medal for its general collection.
D. T. Paterson, Sinclair's Hill, Duns, Berwickshire, continued in business from at least 1901 until at least 1939. Paterson was a smith and farrier. He was well known for his windmills. In the first decades of the twentieth century these were from the Aeromotor Co., Chicago. He was a regular exhibitor at the Highland Show until 1939 as well as a regular advertiser in the Scottish farming press – the Scottish Farmer and the North British Agriculturist.