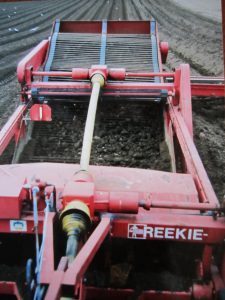 The use of stone and clod separation at tattie planting time brought a revolution in the way that the tattie crop was planted and harvested. It also brought a major change in the machines used for planting and harvesting activities.  Rotavators were required to make a fine seed bed and one that would easily pass through the separator.  New bed openers (with fertiliser attachments) were required to open sufficient ground to form a bed that could then be used to form drills.  And then planters had to work in the width made by the beds.  And if you were separating, there was a new or a second hand harvester.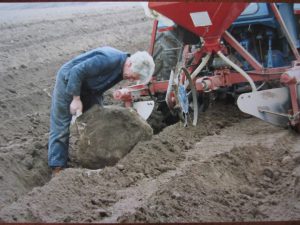 All of this new technology required more horse power.  That led to the change face of tractors on the farm and in some cases to new additions to the fleet (or tractor or two).
Stone and clod separation was a significant investment for farmers.  But it let other aspects of the work on the farm also become mechanised as well: bigger tractors for ploughing, seed bed preparation for vegetables and harvesting the potato and other crops.  It also helped remove a few stones!  We had our monumental stone dump.
The photographs of planting tatties at Pilmuir Farm, Balerno, Midlothian, in the 1990s.
© 2016 Heather Holmes