One of the well-known agricultural machinery dealers in eastern Scotland was Gillies & Henderson of Edinburgh.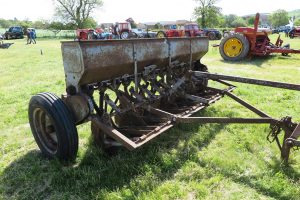 Gillies & Henderson opened its business at Munro Place, Canonmills, Edinburgh, in 1920. Shortly afterwards it moved to premises at 59 Bread Street.  It was associated with Bread Street for many years. By 1940 it also had premises at 254 Leith Walk.  Major changes came in 1961 when it became a company limited by guarantee and moved to the newly established Sighthill Industrial Estate, where other agricultural implement and machine makers were also conducting their businesses. 
The company also had a premises at St Catherine Street, Cupar, in 1934.  By 1951 it had moved to 31 Crossgate, and then to Kirk Wynd by 1955.  By 1958 the company had opened up premises at Rosehall, Haddington.
By the late 1860s the company had changed its operating structure and had separate registered companies reflecting its depots in Edinburgh, Forfar and Perth.  They were dissolved in 1993.
The company undertook a range of activities.  In Post Office directories from the 1930s it described itself as agricultural ironmongers, agricultural engineers, machinery, implement and equipment dealers, tractor and implement dealers.  It was also a wire netting manufacturer and a wire cloth, wire netting and fence manufacturer.
The company had agencies for a wide range of implement and machine makers.  In 1926 they included Massey Harris, and from 1952 David Brown.  In 1962 they were Banfords-Claeys, Wright Rain Irrogation, Ayrshire Elevators and John Salmon beet harvesters. In 1968, agencies included Johnson, New Holland and Clayson.
As an agricultural implement and machine maker, it entered a swathe aerator for the new implement award at the Highland Show in 1957.  It also entered implements made by the Ayrshire Elevator Co., Kilmarnock and Badger Northland Inc, Kaykauna, Wisconsin.
There are still a number of implements and machines with the Gillies & Henderson badge on them around the rally fields.  Look out for the black and silver badge.
The photographs of the Gillies & Henderson grain drill at the Fife Vintage and Agricultural Machinery Club rally, June 2015.
© 2016 Heather Holmes