In 1952 there were at least three makers of tractor cabs in Scotland. They included:
Reekie Engineering Co. Ltd, Arbroath
Ryeside Agricultural & Engineering Works, Dalry, Ayrshire
Scottish Aviation Ltd, Prestwick, Ayrshire
The first and third of these are probably the most well-known. Reekie made cabs for Ferguson tractors while Scottish Aviation Ltd made a light aluminium alloy cab for Ferguson and Fordson Major tractors and Fordson Major spraying cabs.
Scottish Aviation Ltd, based at Prestwick Airport, Ayrshire, was incorporated in 1935, and was dissolved in 1978, manufactured tractor cabs, among other products. Its cab making days are recorded between 1948 and 1967 when it was a regular advertiser in both Farming News and The Scottish farmer. It was also an exhibitor at the Royal Highland Show between 1950 and 1952.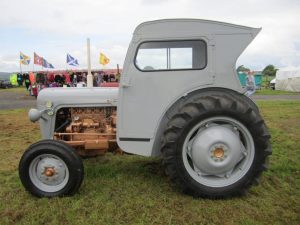 Reekie Engineering Company Ltd, electrical and general engineers, with offices in Lochlands Works, Arbroath, was registered as a new Scottish company in December 1945. In February 1946 it advertised that "electricity will come to your farm" and advertised its services for wiring, motors, machines etc. By April it was advertising seeds and garden implements. In August it was advertising itself as "specialists in land mechanisation", also supplying agricultural implements, horticultural implements, electrical installations, electric vehicles and tractor oils.
In June 1946 the Arbroath Guide noted that Gavin R. Reekie (who was awarded the OBE in the King's Birthday Honours List for his distinguished service with the British Liberation Army – he was mentioned in despatches three times) was "taking an active part in the new Company, Reekie Engineering Co. Ltd, Lochlands Works, Arbroath, which he and his brother have formed to meet the needs of the farming industry with the increased mechanisation of farming. He is the fourth son of Mr and Mrs A. D. Reekie, Westmarch, Harestane Road, Dundee, formerly of Meikle Kilmundie, Glamis. Of his three brothers, two are farmers in Angus, and the other, a director of Reekie Engineering Co., was formerly a Major in the 14th Army in Burma". The firm became a well-known one and a highly regarded implement and machine maker.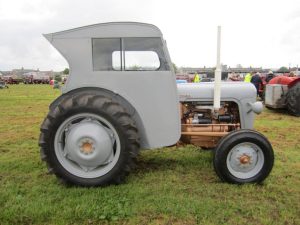 Ryeside Agricultural and Engineering Works, Dalry, also appears to have been another post-war business set up to manufacture agricultural implements and machines. It was first recorded in the Scottish farmer on 4 November 1949. From 1950 until at least 1970 it was a regular exhibitor at the Royal Highland Show.