Byre-cleaners are an important part of the implements and machines on livestock farms.
One of the muck scrapers in the collection of the Aberdeenshire Farming Museum was made by Auchinachie & Simpson, Keith.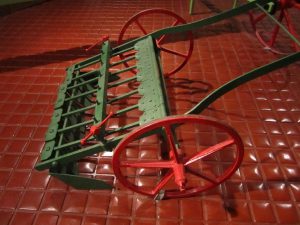 Auchinachie & Simpson was one of the well-known implement and machine makers in north-east Sotland until 1927.  It was founded in 1866, undertaking its business from Mid Street, Keith.  It moved to Balloch Street in the town by the early 1920s.
The company's early specialities included ploughs (both swing and wheel), drill ploughs, harrows, grubbers, land rollers and seed sowing machines.  By the early 1920s, it manufactures included ploughs, harrows and grubbers.  The company also acted as agent for a number of leading English makers, including W. N. Nicholson & Son, Newark on Trent, and Walter A. Wood, London, in 1876 and Harrison, McGregor & Co. Leigh, Lancashire, in 1883.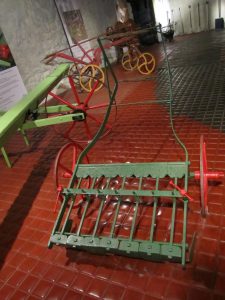 The company was a competitive one, entering its manufactures for a number of the trials of the Highland and Agricultural Society of Scotland.  These included the trial of three-tined grubbers in 1885, the trial of grass seed sowing machines in 1887 and the trial of manure distributers in 1899.  It also exhibited at the Highland Show from 1868 onwards, especially when the Show was held in Aberdeen, Inverness and Edinburgh.
The company reorganised itself in May 1919 to become Auchinachie & Simpson Ltd. Its prospectus noted that "the business of Auchinachie & Simpson is one of the oldest of its kind in the north of Scotland, having been established in 1866, since which date it has been continuously carried on with success, the firm has a wide connection in the north of Scotland and elsewhere.  For some years immediately preceding the War, it was developing a connection in the Colonies, and there is every reason to expect that this trade can be resumed and further developed."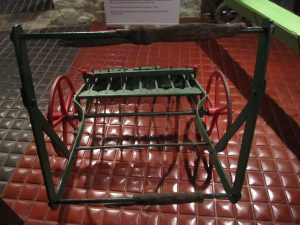 One of the first directors of this limited company was James Auchinachie, implement maker, Keith, who had been connected with the business for the last 53 years and had been the sole proprietor for the last ten years.  The business was carried out under the management of Robert Boyd who had been in the employment of the old company for over 20 years.  The company continued to retain its reputation for high quality manufactures.  As the Report of the First Directors notes: "the productions of the company are held in high regard by the agricultural community, and a large number of orders is at present on hand."
The company was wound up in 1923, and held its final winding up meeting on 25 February 1927.
The photographs were taken at Aberdeenshire Farming Museum, August 2014.
© 2016 Heather Holmes