Harvesting turnips was always hard work. Heavy and wet turnips that were not always easy to pull and wet shows could make for an even harder job.
Scottish makers led the way in the development of turnip harvesters. MacDonald Brothers of Portsoy who had led the way in their harvester in the 1890s (winning the Highland and Agricultural Society of Scotland turnip lifting trial of 1895 against other leading makers), continued to make the "Ideal Lifter" into the 1950s when versions were available for use with horses, as well as with tractors including Ferguson and David Brown.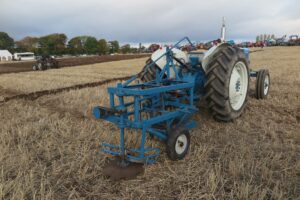 The year 1956 was important for the development of turnip harvesters. At the Highland Show of Inverness no less than two turnip harvesters were entered for the new implement award. One was the "Bruce" turnip lifter and dresser. It was invented by James M. Bruce, Brechin, and made by the Forfar Foundry Ltd. It was exhibited by Barclay, Ross & Hutchison Ltd of Aberdeen. The second machine was the "Linton" turnip topper and tailer. It was invented and made by Fleming & Son, West Linton. It was exhibited by F. M. Fleming & Son of Rattray Engineering Works, Blairgowrie. Both were tractor-mounted.
Another harvester, invented by James Smith, Berry Farm, Scalloway, Lerwick, was also on display at the 1956 Show. It was entered for the new implement award in the following year at the Dundee Show. It was manufactured by Innes, Walker (Engineering) Co. Ltd, Paisley, Renfrewshire.
In 1960 a further turnip harvester was entered for the new implement award at the Highland Show. This was the "Reekie" turnip harvester made by Reekie Engineering Co. Ltd, Arbroath.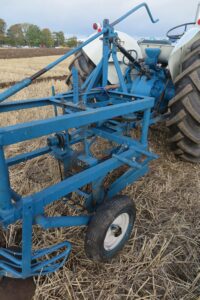 By 1963 there were three Scottish makers of turnip harvesters recorded in the Farm Mechanisation Directory: Boswells of Blairgowrie, Forfar Foundry Ltd, and Reekie Engineering Ltd. In addition, J. Bisset & Sons Ltd, Blairgowrie, also sold the "New Linton" harvester.
Each turnip harvester had their own design features and methods to top and tail the turnips. The "Linton", for example, had a rotating knife for topping, while rotating discs were used to tail the turnips. The Reekie topped and tailed them before cleaning them, and putting them into a trailer. Tailing was undertaken by means of two counter-rotating discs, while topping was achieved by using revolving flail type blades.
Scottish farmers who wanted to make the turnip harvest that bit easier to undertake had a number of machines that they could choose from, all made by leading implement and machine makers.
The photographs of the turnip harvester which loosens the soil around them was taken at the Starthnairn rally, September 2018.