A showcase of Scottish agricultural implements and machines, New Deer Show, 20 July 2014
How do you describe the Scottish agricultural implement and machine makers?
This question was at the forefront of my mind when I attended the display of vintage agricultural implements and machines at New Deer Show on 20 July 2014.  Each year the organisers put on a themed display of implements and machines.  This year's one drew on Homecoming Scotland 2014, a year-long programme of events to "celebrate the very best of Scotland's food and drink, our fantastic active and natural resources as well as our creativity, culture and ancestral heritage".  It was appropriately called "Made in Scotland".
The exhibits were divided into two sections, each with self-explanatory names: "Made in Scotland" and "No longer made in Scotland".  This second section formed the largest part of the display, with over 100 exhibits, ranging from ploughs, cultivators, harvesting implements and machines as well as ones to process crops for livestock.  In essence, the display was a showcase of Scottish agricultural implements and machines from the last century or so.  But it was also a showcase of Scottish agricultural engineering and the engineering legacy of the makers.
The organisers had requested local farmers and vintage machinery enthusiasts to bring along an implement or machine to display, while sourcing some themselves.  There was therefore a focus of implements from yesteryear that were used in the district and more widely in Aberdeenshire and which reflected the agricultural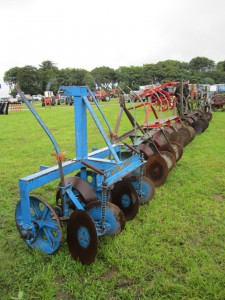 activities of the district with its emphasis on mixed farming, and the rearing of beef cattle.  There was a good collection of grass seed barrows for sowing artificial grasses for hay and a particularly strong display of exhibits relating to the growing, harvesting and processing of turnips.  Potato growing was represented by a variety of seed bed preparation and harvesting implements, notably spinner diggers.
The display embraced some of the most important developments in agricultural implements and machines in the last century or so.  From the horse drawn implements of the late nineteenth and the early twentieth centuries, they included the Princes reaper from Macdonald Brothers, Portsoy (a well-known reaper in its day).  Grass seed barrows from Banff Foundry and George Sellar & Son, represented an important innovation in mechanization of the growing of grass crops.  The spinner potato digger from John Wallace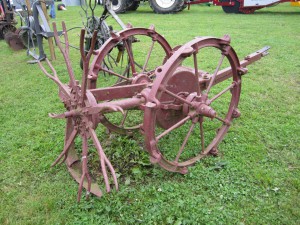 & Sons Ltd, Glasgow, used both in connection with horses and tractors, was a major step forward for harvesting the potato harvest after the potato ploughs, and could more effectively throw out the potatoes from the drill.  Wallace's spinner was one of the noted ones, the company having been involved in potato harvesting manufacture for decades, having won third prize in the Highland and Agricultural Society of Scotland's trials of potato diggers in 1881.
The period of tractor drawn and powered implements and machines was largely represented by post Second World War developments.  After the Second World War many new developments in implements and machines were brought about as a result of the wider adoption and use of tractors, whose performance was also improving, as well as the revolution in harvesting machinery.  From the 1950s and 1960s onwards were turnip harvesters,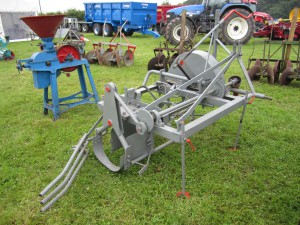 such as those from Elbar, Forfar Foundry, Forfar, Fleming & Son, West Linton, and Boswells of Blairgowrie.  With the increased use of combine harvesters, such as those of Massey Ferguson, manufactured at Kilmarnock, also displayed, was the development of a range of bale handling equipment such as the bale thrower of J. Bisset & Sons, Blairgowrie, and the bale grab of A. Newlands & Sons, Linlithgow.  Combine harvesters required bulk grain handling and the development of larger trailers, usually metal rather than wood, and included those of Fraser Brothers, Rothienorman.  From 1970, as a result of legislative requirements for tractor safety, tractor safety cabs became requisite, and there were "Duncan" cabs made by Alexander Duncan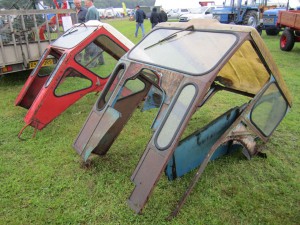 (Aberdeen) Ltd, Inchbroom, Nigg, one of a small number of tractor cab makers in Britain.  There were also important changes made to the harvesting of the potato crop, and in the 1970s the development of stone and clod separation was the solution the mechanisation of the potato harvest, allowing the complete harvesters to work more quickly and effectively.  That revolutionary technology was represented by a ridger and a stone and clod separator by Reekie Engineering Co. Ltd, the leading Scottish makers.
The display included a number of implements and machines that were locally made in Aberdeenshire and more widely in the north-east.  The names of local companies appeared as in a roll-call of the most noted and reputed of makers of this part of Scotland, some being well-established businesses dating from the second half of the nineteenth century or even earlier, while others were established in the 1950s and 1960s.  They included:
Adams of Old Deer, Challenger Trailer Works, Old Deer (later Adams Trailers Ltd)
Allan Brothers, Ashgrove Engineering Works, Aberdeen (later Allan Bros. (Aberdeen) Ltd)
Banff Foundry & Engineering Co. Ltd, Banff Foundry, Banff
Bon Accord Agricultural Engineering Co. Ltd, Bon Accord Works, Aberdeen
Duncan, Inchbroom, Nigg, Aberdeen (later Alexander Duncan (Aberdeen) Ltd)
Edmond & Son, Udny
Forfar Foundry Ltd, Service Road, Forfar
Fraser Brothers, Rothienorman
G. Garvie & Sons, Canal Road, Aberdeen
Robert A. Grant, Quilquox, Ythanside
Grays of Fetterangus, Fairbank Works, Ferrerangus (later Grays of Fetterangus Ltd)
Macdonald Brothers, Roseacre Street, Portsoy
James F. Ogg, Bridge of Muchalls, Stonehaven
William Reid (Forres) Ltd, Harvester House, Forres
George Sellar & Son, Granary Street, Huntly (and Alloa) (later George Sellar & Son Ltd)
Shearer Brothers, Maybank Works, Turriff
Watson Brothers, Banff Foundry, Banff
Wright Brothers, Boyne Mills, Portsoy (later Wright Bros (Boyne Mills) Ltd).
While locally based, the business activities and reputations of some of the makers went far beyond the north-east.  George Sellar & Son had a world-wide reputation for its manufactures, even as far back as the 1870s, also being a world-leading ploughmaker.
These Aberdeenshire makers made a range of implements and machines.  They included many of the most important ones required for the farmer for ploughing, seed bed cultivation, sowing, reaping and processing crops, as well as carts and motive power (ie oil engines).  These formed the basis for the manufacturing of implements and machines in the area.  Each maker had their own manufactures, also being known for them.  Banff Foundry & Engineering Co. Ltd, made a wide range of implements, including ones for ploughing, sowing, harvesting, and barn machinery.  Others specialized in specific types.  George Sellar & Sons was associated with ploughs and other cultivating implements; Shearer Brothers for its reaping machines as well as its "advance" thresher for foot and hand power, and hand thresher from the early 1880s and 1890s.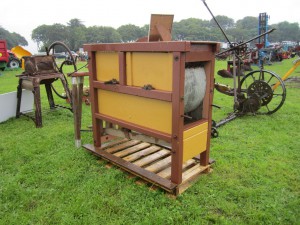 Allan Brothers was one of a small number of oil engine makers in Scotland in the first half of the twentieth century.
But the county was also especially renowned for the making of specific implements and machines.  There was a strong tradition of ploughmaking and ploughing innovations, from ploughmakers such as George Sellar & Son.  A second tradition was the making of threshing mills.  There were mills from three well-known makers on display: R. G. Garvie & Sons, Wright Bros, and E. Edmond & Son.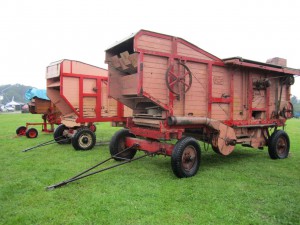 So strong was the tradition of mill-making in the area that even by the mid 1960s when combine harvesters were becoming more widely used throughout the country, making the threshing mill technology obsolete, the county continued to be the last stronghold of millwrights in Scotland. A third tradition was that of trailer making. There were trailers from Adams of Old Deer, Robert A. Grant, and Fraser Brothers, three businesses that dated from the 1960s onwards.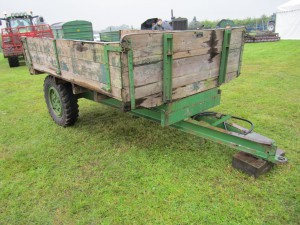 A number of exhibits also came from other parts of Scotland.  While some were bought directly from the makers, some makers also acted as agents, a practice that became more widespread after the 1870s, when makers started to provide a complete range of implements and machines for farmers.  The display of a number of exhibits from A. Newlands & Sons Ltd, Linlithgow, John Wallace & Sons Ltd, Glasgow (later Wallace (Glasgow) Ltd then John Wallace (Agricultural Machinery) Ltd), and J L & J Ballach, Gorgie Engineering Works, Edinburgh, (later J L & J Ballach Ltd) and tractors from Leyland and Nuffield suggests that there were local agents for them.  Indeed, in 1951 George Bruce & Co., 14 Regent Quay, Aberdeen was an agent for Balloch while William Reid & Leys Ltd, Hadden Street, Aberdeen, was agent for both Ballach and Newlands. Neil Ross at Ellon was agent for John Wallace & Sons in 1948.
The implements and machines from outside the north-east were of particular types, and also made by specific makers.  The potato bed cultivation equipment was from Reekie Engineering Co. Ltd,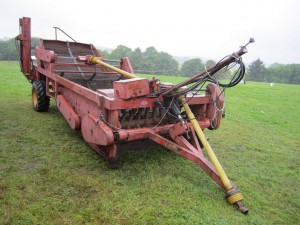 Lochlands Works, Arbroath (later of Arbroath, Forfar and Laurencekirk), the turnip sowing drills and turnip scarifiers of J L & J Balloch, Gorgie Implement Works, Edinburgh and the turnip scarifiers of Geo. Henderson, Kelso Foundry.  These were all makers renowned for their manufacture of particular implements and machines, sometimes for decades.
The makers of the implements and machines included a wide range of businesses.  They extended from the micro-businesses that would have only been known in Aberdeenshire or had a more local customer base – such as the trailer made by Robert A. Grant to the "British" companies that had a factory in Scotland – such as the British Motor Company that manufactured Nuffield and Leyland Tractors at Bathgate – as well as the multi-nationals, such as Massey Ferguson.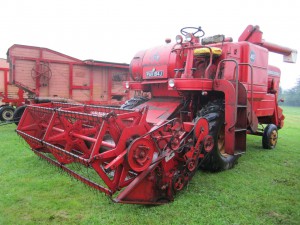 Most of the businesses were located in between.  They included a large number of family-owned and managed businesses, associated with particular works and foundries as well as towns.  Thus, A. Newlands & Sons, Linlithgow, was often known as Newlands of Linlithgow, while J L & J Ballach, Gorgie, Edinbugh, was Balloch of Edinburgh or Balloch of Gorgie.
So, what are the main characteristics of the agricultural implement and machine makers and their activities, as defined by the display at New Deer Show?
First and foremost, they made implements and machines for the agriculturalist, for activities not only in the field but also at the steading;
They were makers or manufacturers but some also acted as agents for others, enabling them to provide other implements and machines, even a complete range for the farmer, especially from the 1870s onwards;
Their activities ranged from the making of specific implements and machines to a broad range of them;
They had core activities that remained constant, sometimes for many years, but they also responded to the need for technological developments and new innovations (eg the move from steam to gas and oil power);
Some implement and machine makers became specialists in the manufacturing of particular implements and machines, and became regional and national specialists, also being closely associated with them;
Their traditional customer base was the local market, while it could also be extended to wider regional and national markets, and also sometimes international ones.  Thus, in an area, the basic implements tended to be traditionally sourced locally while other machines were brought in from other areas; the specialization of implement and machine makers, together with the extended use of agents meant that this pattern no longer held;
The businesses extended from the minor-business to the multi-national, but also included many family run and controlled businesses, associated with particular foundries or works.
As I drove home after the Show I wondered what a "Made in Scotland" display would look like at other vintage machinery rallies around the country.  What makers would be represented?  What machines and implements would be displayed?  What would the machines and implements tell us about the show district and the agriculture that was carried out in the district?  The "Made in Scotland" theme is a thought-provoking one for rally organisers to think about.  It raises important questions about the implements and machines used on the Scottish farms in the last century or so.
Thanks to the organisers Jim Muir, Peter Johnston, Scot Gibson and David Hay for putting on such a great display at New Deer.  The 2015 display looks to recreate the history of a local machinery dealer.
© 2015 Heather Holmes