Hay bogies or sledges were used to haul hay in rucks or ricks to the farm steading. In essence, they were a flat tipping trailer with a winch.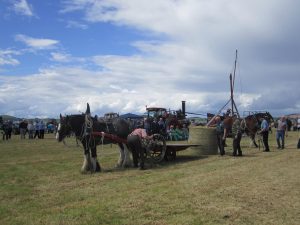 There were a number of makers of hay bogies. In 1912 Dickie Brothers, agricultural engineers, Stirling, manufactured an improved one for £6 10s. The most well-known one was made by A. Jack & Sons, Maybole, Ayrshire. There are still a few of the Jack bogies to be seen around the rally fields.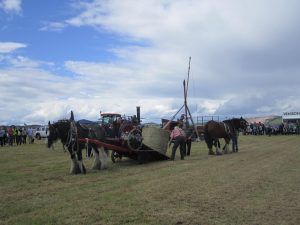 There was quite a knack to loading a ruck onto a hay bogie. You had to make sure that it slid up the tipped bogie and did not tip over as it was being winched onto it (hand or motor powered depending on the model). You also had to make sure that it did not ride up too far up the bogie, especially if you were using the motor powered one. Then you were in a real mess!
The photographs show a round bale (as a ruck) being wound onto a Jack hay bogie at the Fife Vintage Agricultural Machinery Club rally, June 2014.