American makers of harvesting machinery started to play an increasing role on the Scottish harvest field from the late 1860s. By the 1890s there were some large names present in the Scottish fields: W. A. Wood, New York, McCormick Harvesting Machine Co., Chicago, Plano Manufacturing Co. Chicago, Johnston Harvester Co., Batavia, New York, D. M. Osborne & Co., New York, Adriance, Platt & Co., New York, W. Deering & Co., Chicago. In the first decade of the twentieth century another name appeared: International Harvester Co.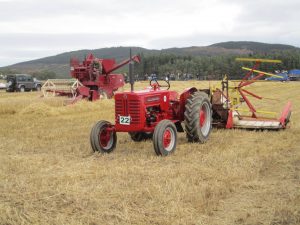 Scottish makers of reapers and mowers started to sell American machines, usually binders, to augment or replace their own lines which were losing popularity. In the 1890s they included Thomas Brown & Sons, Duns, Auchinachie & Simpson, Keith, and Alexander Jack & Sons, Maybole. By the following decade they also included J. D. Allan & Sons, Dunkeld.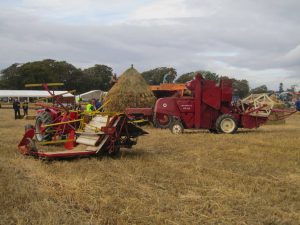 Some the Scottish makers had more than one dealership of American makers, sometimes changing over the years. Alexander Jack & Son, Maybole, had four between 1888 and 1910: Walter A. Wood (1888, 1891); Adriance, Platt & Co (1895, 1896, 1897); Deering Harvester Co., (1898, 1899, 1900); and McCormick (1901, 1902, 1904, 1905, 1906, 1907, 1910). The large maker and dealer A. & J. Main, Glasgow, had two between 1873 and 1910: Walter A. Wood (1873 to 1893) and William Deering & Co., Chicago, from 1894.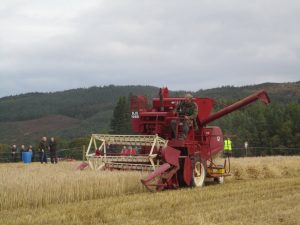 Some of the American companies had a small number of dealers. between 1897 and 1910 Adriance Platt & Co., had 8 dealers: they ranged from large businesses such as John Wallace & Sons, Graham Square, Glasgow in 1893-94 to small, localised ones, such as John Robertson, implement maker, Conon Bridge, Ross-shire in 1901. All were located in significant grain growing areas, or agricultural centres such as Errol, Stirling, Maybole, Lockerbie, Conon Bridge, Dundee, and Glasgow.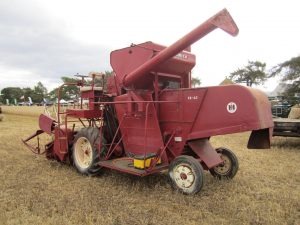 One of the more popular American companies was W. Deering & Co – Deering Harvester Co., Chicago. Between 1895 and 1910 it had 17 agents in Scotland. Perhaps the most important was A. & J. Main & Co., Ltd, Corn Exchange Buildings, Edinburgh, agent from 1894 to 1910. Andrew Pollock, Mauchline, was agent from at least 18897 to 1910. Alexander Jack & Son, Maybole, was agent from 1895 to 1900. A good number were agents for only short periods of time.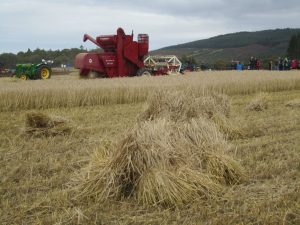 American makers of combine harvesters were to play an important role in the Scottish harvest field. They included Allis-Chalmers and McCormick. There are still a few of these "vintage" combines around. One of these is to be seen at the Strathnairn vintage rally, usually held at the end of September.
The photographs were taken at the Strathnairn Vinatge Rally, Daviot, September 2014.