Displenishing sales provide an insight into the implements and machines that were being used on a farm when the tenant was leaving a particular farm. They can show the type of agriculture practiced as well as the range of implements and machines used. They can also show whether the Fram was using new and innovative ones or were relying on older ones. 
In October 1926 there were two displenishing sales taking place in Midlothian – at Blackcastle and Burdiehouse. It is worth looking at these to see what implements and machines were being used nearly 100 years ago. There is a great emphasis on ploughing, cultivating, carting, crop processing, and animal husbandry.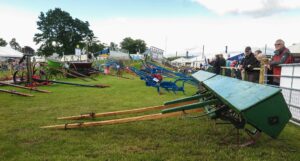 Blackcastle, Tynehead
The whole of the farm implements, including-6 swing ploughs, 2 D.M. ploughs, 1 potato ploughs, corn drill (Massey Harris), broadcast barrow, 3 turnip barrows, 3 land rollers, 1 scarifier (new), Hunter Hoe, 3 cultivators, 1 set chain harrows, 6 sets English harrows, 1 set grass seed harrows, 7 grubbers, 4 binders, turnip cutter, turnip cutting cart, 2 manure distributors, 9 box carts, 2 box cart bodies, 2 long carts, 7 long cart bodies, 1 cart frame, 2 dumb tams, 13 sheep hecks, 5 cake bins on wheels, 6 cake bins, 2 corn chests, net stobs, 11 hand made wire nets, sheep cake and turnip boxes, clipping stool, set fanners (Corbett's new), 2 sets barn weights (1 set new, by Avery Ltd), 3 Hurleys, 2 sack barrows, stack and binder covers, ropes, hen coops, wheelbarrows, ladders, grindstone, and a large assortment of small tools.
Also 14 sets cart and plough harness, 15 stall collars, riding saddle, lady's riding saddle, &c.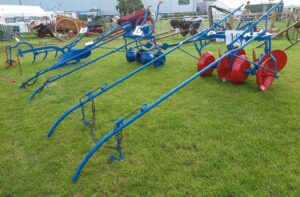 Burdiehouse Farm, Loanhead
The usual farm implements required for a farm this size, including:-five box carts, 4 long carts, 2 binders (Massey Harris), 2 hay collectors, 9 sets harrows, 3 double grubbers, 4 drill grubbers, cultivator, D. D. manure sower, Hosier corn drill, 5 ploughs, 2 iron rollers, 2 stone rollers, drill roller, turnip barrow, 3 corn chests, potato boxes and baskets, 12 FC troughs, 2 hen houses, 6 chicken coops, small tools, &c. Four sets cart and plough harness, dairy utensils, quantity household furniture.
It is interesting to note for the advert for Burdiehouse that the implements were "the usual" ones for "a farm of this size". This gives an indication of what was typical for a farm.
The photographs were taken at the Royal Highland Show, June 2019.