If you were a farmer in the Inverness district until the mid 1920s you would have known the name of Duncan Ross, first associated with Academy Street in the 1870s and then Baron Taylor's Lane, from at least 1889.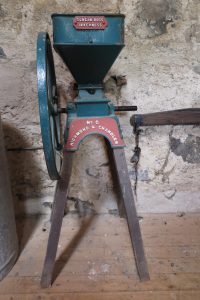 Duncan started his business in his own name by 1869.  By 1899 it had become Duncan Ross & Co.  His business changed over the years.  In 1869 he was an ironmonger, and a few years later in 1873 an agricultural merchant, a term also noted in 1903.  He was recorded as an agricultural factor in 1876.  By 1889 he was making a number of implements and machines.  From the 1890s he is recorded variously as an agricultural implement agent, agricultural implement maker, agricultural merchant, corn merchant, grain, hay and general merchant, machinery merchant, and seed merchant.  Duncan was also a farmer at Hilton Farm, Inverness-shire.  Quite a range of activities! 
By 1889 Duncan had an extensive business.  A local directory records him as "Duncan Ross & Co., agricultural factors and general commission merchants, inventors and patentees of farm implements and wire-fencing, New Buildings, Baron Taylor's Lane; stores, Dempster Gardens.  Every requisite for the estate, farmer, forester, keeper and gardener supplied."
Duncan's implements included a new or improved turnip topping and tailing machine, patented in December 1875.  He exhibited at the Highland Show in Aberdeen in 1876 and Edinburgh in 1877.  By 1877 it was described as "his improved self-adjusting turnip topping and tailing machine for single and double drills."  It was also sold by other implement makers such as Craig & Clark, Oldmeldrum, Aberdeenshire.  It had won a minor silver medal from the Highland and Agricultural Society of Scotland in 1876.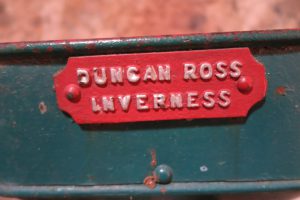 An important aspect of Duncan's business was the selling of implements and machines from leading makers to the highland farmer.  In 1911 he stocked a range of them from makers in Scotland, England as well as internationally.  They included A. & J. Main & Co. Ltd, Edinburgh, International harvester Co., London, William Reid & Leys, Aberdeen, Thomas Corbett, Shrewsbury, Follows & Bate Ltd, Manchester, and George Sellar & Sons, Huntly.
The company was disposed of in 1923.  It was owned by Simon Mackay who traded as Duncan Ross & Company, agricultural merchants, Inverness.
If you see the name Duncan Ross, you will know that he was an important figure in the making and selling of implements and machines to farmers in the Highlands.
The photographs were taken at the Highland Folk Museum, Newtonmore, May 2016.
© 2016 Heather Holmes