Back in 1914 Barclay, Ross & Tough conducted its business from Balmoral Buildings, 67-71 Green, Aberdeen, and at Craigshaw, Aberdeen. It was two addresses that became closely known with its successor Barclay, Ross & Tough and Barclay, Ross & Hutchison Ltd in 1920.
Early important changes were brought about in 1915 with the retrial of Robert Tough. The business continued to be run by the remaining partners, Robert Ross and Thomas Hutchison. Mr Barclay, the other partner, had been commission agent in Aberdeen from at least 1874 and then a manure, agricultural implement and commission merchant by 1890. By 1898 he was described as "Morrison Barclay, of Barclay, Ross and Tough.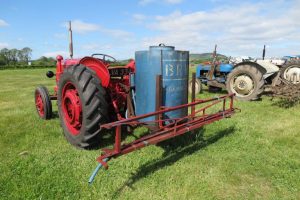 On the retrial of Robert Ross, the business was taken over by Scottish Agricultural Industries Ltd on 1 July 1929. In 1933 it advertised in the North British Agriculturist as Barclay, Ross & Hutchison Ltd, associated with Scottish Agricultural Industries Ltd". In that year it exhibited at the Highland Show the "S.A.I. chemical dresser for all seeds".
In 1929 the take over of B. R. H. by Scottish Agricultural Industries Ltd was recorded in the Scottish newspaper press. The Aberdeen press and journal on 25 May 1929 provided an extensive account on the change of business. It is worth quoting at length:
"Aberdeen business changes hands Messrs Barclay, Ross, and HutchisonWhen Scottish Agricultural Industries Ltd, was formed at the beginning of this year, it was stated that their intention was to deal in all agricultural requisites, and, following that policy, they have arranged to acquire, as from July 1 next, the whole of the shares of the old-established business of Messrs Barclay, Ross and Hutchison Ltd, Aberdeen, whose name is well known to agriculturists in the north and midlands of Scotland as seedsmen, millwrights, and manufacturers of agricultural implements.
The business will be carried on as hitherto with the same staff, and under the management of Mr Hutchison, who has been a director for many years.
Mr Ross, the senior director, is retiring, but the company will continue to have, when necessary, the benefit of his advice and experience.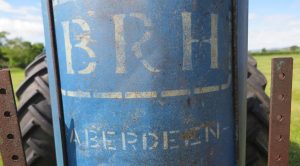 Origin of firm
It was in 1871 that the business was founded by Mr Morrison Barclay. In 1900 the firm's name became Barclay, Ross, and Tough; and in 1918, when the concern was converted into a limited company, the designation became Barclay, Ross, and Hutchison, Ltd. Mr Hutchison became associated with the business in 1904, and in 1912 he was made a partner. Two years ago a branch of the business was established at Perth.
In more recent years the trading activities of the firm were greatly developed throughout all parts of the north-east. No business of its kind is better known in this area.
Barclay, Ross, and Hutchison hold a Royal Warrant as agricultural implement makers to His Majesty the King. The engineering works are at Craigshaw, Torry, where the chief output is threshing machines, manure distributors, and cultivators.
Royal Northern Secretaries
Mr Ross and Mr Hutchison acted as joint-secretaries of the Royal Northern Agricultural Society for many years, and it was owing to the expansion of their business that they were compelled to give up that office.
Mr Hutchison has been the demonstrator for several years on farm implements for the North of Scotland College of Agriculture."