By 1844 the company of P. & R. Fleming described itself as an iron merchant and ironmongers 29 Argyll Street and 18 Stockwell Street, Glasgow.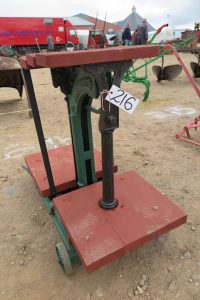 The company's base remained firmly in Glasgow. By 1874 it had a branch establishment at 1 Downhill Place, Patrick. It opened its works in Kelvin Street, Patrick, by 1889. Premises were opened up in Edinburgh, in the Grassmarket, by 1896. It had stands at the Edinburgh and Cupar Corn Exchanges in 1928 – as had a number of the leading implement and machine makers in Scotland.
The company developed a specialist range of trades and manufactures. By the mid 1850s it described itself as smiths and weighing machine makers. The company continued to develop its expertise and trades. By 1889 it described itself as wire fence and gate manufacturers and as having an agricultural implement warehouse. It was to become renowned as a structural engineer. These were to form its major activities until the company passed a special resolution to voluntarily wind up its affairs which it passed on 11 August 1982.
One of the men behind the company was Hugh Howie. In 1893 the North British Agriculturist provided a pen picture of him and his work, as well as that of the company. It is worth quoting at length: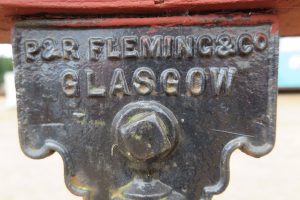 "The firm of Messrs P. & R. Fleming & Co., Argyll Street, Glasgow, of which Mr Howie is the senior partner, has for many years been recognised in the west of Scotland as one of the leading houses for all kinds of agricultural implements. The firm manufacture considerable numbers of agricultural appliances at their works, kelvin Street, Partick, and they also hold sole agencies for the best American and English makers. Their stock includes corn crushers of a very useful description; chaff cutters, potato diggers and riddlers, hay rakes, harvesters of various descriptions, and makes, land rollers, turnip and broadcast seed sowers, ploughs, zigzag harrows, threshing machines, hay balers, pumps &c, as well s a large selection of dairy implements, including cheese vats and presses, cart cans, refrigerators, curd cutters, and improved curd heater and cooler combined, horse and hand churns, separators, weights, &c. In addition to the purely agricultural implements, the firm also do a large business in the manufacture and sale of all kinds of estate requisites such as iron and wire fencing, galvanised hay sheds and roofs, gates, garden seats, lawn mowers, rollers &c. They also do considerably in iron bridges for cart traffic, suitable for country and farm roads, as well as in the fitting up of stables, byres, and farm steadings generally. Some time ago Messrs Fleming & Co. constructed a special galvanised iron steading on the Duke of Argyll's estate of Roseneath, Dunbartonshire, and at various farms throughout the west of Scotland their iron roofs and sheds have been found most useful in preserving and storing various kinds of agricultural produce. Last year the firm acquired the agricultural implement premises formerly used by Mr Balloch at 16 Graham Square, and since then they have been going even more deeply into the agricultural implement trade, taking up the sale of practically every kind of implement used in farm husbandry. Their store warehouse is one of the signals of Glasgow, being 150 feet long, splendidly arranged and fitted up, and lighted throughout with electric light, Mr Howie has associated with him in partnership his son, Mr Robt. Howie, and Mr jas. McGregor, who both take the active management of the business."
The North British Agriculturist provides important insights into the work of Hugh Howie and P. & R. Fleming. There are still a number of Fleming byre fixtures an building structures to be seen around Scotland. Look out for them!