North-east Scotland, and especially Aberdeenshire, is famous for its plough makers. Well, there's George Sellar, Huntly, Thomas Pirie, Kinmundy and Robert Mitchell, Peterhead. And there is also Alexander Newlands of Inverurie. You will probably know the latter as Newlands of Linlithgow.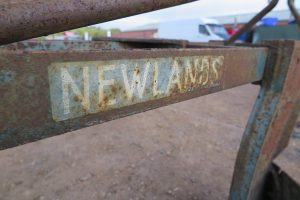 Alexander Newlands was born in 1834. He spent his early years working for George Sellar & Son, Huntly, "with whom he has had great experience" in general country work – "plough and other Agricultural Implement Making, and Horse-Shoeing". In June 1860 he took over the stock in trade of William Crichton, blacksmith, Port Elphinstone. He did not stay in Port Elphinstone for long. By 1864 he had moved to Inverurie where he had set up shop at 43 High Street.
1868 was an important year for Alexander Newlands: it was the first one that he exhibited at the Highland Show which was being held in Aberdeen. He exhibited a two horse plough with steel mould and a ridging or drill plough, both of which he made himself.
Alexander was an ambitious and successful plough maker. He recognised that while there was a trade for his implements in the north-east, he could expand his business elsewhere. On 11 September 1880 he sold, by public sale, the property at 43 High Street. He took the ambitious step of moving to Linlithgow, the county town of West Lothian, to expand his business. In 1884 his son, also named Alexander, joined him in business, which became Alexander Newlands & Son, Provost Road, Linlithgow. The name of St Magdalene Engineering Works, is not recorded until around 1913.
From the 1880s onwards Alexander Newlands & Son specialised in the making of ploughs, grubbers and harrows. Later it ventured into horse rakes. In 1900 its manufactures included a two horse swing plough; medium drill plough with marker; baulking drill plough; combined drill and potato plough; one horse drill grubber; horse or drill hoe as a drill grubber; house or drill hoe as a ridging up plough; field grubber; diamond harrows; and drill scarifier.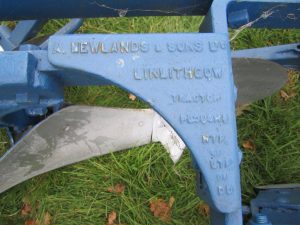 The company was a progressive one. From 1884 when the young Alexander joined his father, it exhibited nearly every year at the Highland Show and advertised in the agricultural newspaper of the day, the North British Agriculturist. In later years advertising was also under taken in The Scottish Farmer.
Even after Alexander senior died in 1907 the company continued to be an innovative one. By 1914, it acted as an agent for McCormick and Bamford, and in 1919 was selling the Austin farm tractor. In the following year it became an incorporated company: Alexander Newlands & Sons Ltd. Two years later in 1922, it took the important step to participate in the famous exhibition of farm tractors and tractor implements arranged by the Royal Highland and Agricultural Society of Scotland. In that year it also won a silver medal for its self-lift brake harrow at the Highland Show at Dumfries. In 1934 it exhibited as a new implement a cultivator and ridging attachment for tractors.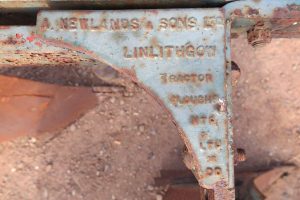 It was its ploughs that Newlands continued to be closely associated. In the 1950s and 1960s they couldn't be beaten in the ploughing matches in the Lothians. Newlands carried away the prizes. Even the followers of Ransomes turned to Newlands.
Alexander Newlands & Sons Limited continued in business until 9 September 1986 when the company was dissolved.
Next time someone asks you to list the famous plough makers of Aberdeenshire, remember to include Alexander Newlands. He had a reputation that went far beyond the boundaries of the county of his birth.
The photograph of the Newlands name plate on a three furrow Newlands plough were taken at Farming Yesteryear, September 2014.